You will complete your enrolment at the 'Direction des Etudes' office (the Department of Academic Studies) when you arrive. You will then be provided with your student ID card, enrolment certificate and internet access codes.
When you arrive at the University, you will receive your personal Aquipass card. This is your student passport. It is your source of ID and will allow you use the many services on offer: checking out books at the library, eating at the University restaurants, etc.
The electronic card system also allows you to make certain purchases.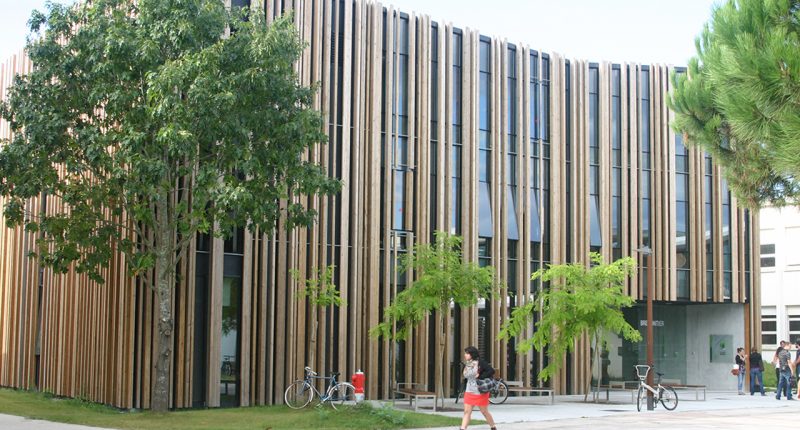 This is where you can do your research and study!
Books and journals may be consulted in the library or borrowed. There is also a wealth of on-line resources (journals, databases, etc.) available.
The Bordeaux Sciences Agro Library has nearly 30,000 books in relation to the courses offered at BSA: economics, agriculture, environment, science, animal production, crop production, food processing, forestry, viticulture, oenology, computing and information technology, foreign languages, etc. It also subscribes to more than 230 journals.
Facilities
Reading Room
Internet-connected computers
Small work rooms for 6 people
Two large work rooms for 15 people
Free access to copiers and printers
Operational hours
Monday to Friday: 8:15 am – 7 pm except:
Mondays: opening at 9 am and
Fridays: closed from 12:15 pm to 1 pm
University restaurants are located throughout our campuses and in the city center. They offer healthy, balanced meals for only €3.20.
University restaurants in Pessac – Gradignan
Resto U #1 open in the evenings: Avenue Prévost – Talence
Restaurant: Monday to Friday: 11.30am– 1.30pm and 6.30pm – 8pm
Cafétéria : 7.30am – 6.30pm
Tram B – Arts et Métiers
Resto U #2: Avenue des Facultés – Pessac
Restaurant: Monday to Friday: 11.30am – 2pm
Cafétéria : 10am – 4pm
Tram B – Doyen Brus
Resto U #3:  Avenue Camille Jullian – Gradignan
Restaurant: Monday to Friday: 11.30am – 1.30pm
Cafétéria : 11am – 3pm› Bus Line (Ligne)  10 –    Village 6
Le Forum: 2 Avenue Léon Duguit – 33600 Pessac
Monday to Friday: 7.30am –    6pm
Tram B – Montaigne-Montesquieu
Le Véracruz:  Esplanade des Antilles Avenue Maine de Biran – 33608 Pessac
Monday to Friday: 7.30am – 6pm
Tram B – Unitec
Le Sirtaki: 23 Esplanade des Antilles – 33600 Pessac
Monday to Friday: 7.45am – 6pm (except Friday: 5pm)
Take away: 9.30am – 5pm (except Friday 4pm)
Tram B – Montaigne-Montesquieu
Cafétéria de l'IUT: Rue de Naudet – Gradignan
Monday to Friday: 8am – 4.15pm (except Friday: 3.45pm)
Bus Line (Ligne) 10 (Village 6).
 The Aquipass cards have an integrated Izly electronic card system.
This may be used in the University cafeterias and restaurants, avoiding the need to pay in cash.
How do you validate the Izly card?
Online right here!
To login to www.izly.fr for the first time, use your university e-mail address given to you by the 'Direction des Études' office (Department of Academic Studies) when you arrived.
How do you top up the Izly card?
To Load, Reload, Unload or Contest a transaction, use a computer, smartphone or a tablet to log on to www.izly.fr.
With the Izly card, you can use your phone to pay at the CROUS restaurants in any city in France.
Where can you use Izly?
You can use your Izly card:
at university restaurants in the CROUS network;
for other services such as photocopiers, vending machines, laundry, etc.;
at the online ordering sites of CROUS and other Higher Education institutions.